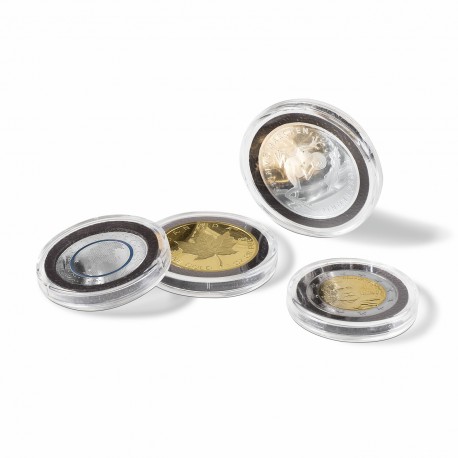  
BOX OF 10 ROUND COIN CAPSULES ULTRA INTERCEPT - Anti-oxidation (26 to 41 mm)
Shipping within 1 to 3 weeks
Secure online payment by Paypal
Bank transfer
Free delivery from 100€ of purchase
ULTRA Intercept – the only round capsule in the world with active protection against oxidation !

Using proven technology, ULTRA Intercept Coin Pods offer a new way to collect coins.

The 3 mm thick foam ring, inserted in the capsules, has been specially developed and is based on Intercept technology, patented for 30 years. The copper particles contained in the material capture corrosive gases to remain and thus neutralize the undesirable effects of substances present in the atmosphere. The coins are placed in a micro-climate free from oxidation (protection guaranteed for 15 years*). According to DIN, EN, ISO and ASTM standards, the effect has been proven. Available for all parts from 26 to 41 mm (in millimetric steps).

*Under normal storage conditions, the duration of action greatly exceeds the advertised 15 years! It can happen, only in very unfavorable conditions (e.g., strong air pollution or permanent opening of capsules/boxes), that the capacity of the intercept material is exhausted before the maturity of 15 years. When the potential of the material is depleted a dark grey to greenish discoloration appears on the surface of the product (and not on the coins !). When this staining occurs, it s time to replace the product with a new product.